The undercut sometimes referred to as a disconnected undercut, has been sweeping the globe as one of the most popular hairstyles for both men and women today. It's a sleek and clean-cut look that sharpens the face.
It works for all face shapes if you frame the face right. Someone with a sharper bone structure can pull off shorter hair, but a less defined bone structure may require a slightly longer cut. It all depends on how it's styled. It's a versatile look that can be gelled back to look professional, or messy and wild. Some will slick the hair all to one side, do a side part, or tie it in a man bun.
The length at the top tends to be a shorter more masculine look, but many women use it to thin out their long hair, only revealing the undercut when wearing an updo. It's better to have thicker hair with this cut because part of the style is having that a layered look with the longer top hair obscuring the cut beneath.
With this look, style is key, and many men who have never styled their hair before are admitting to blow-drying, using round brushes, and product to keep their hair from flopping around or lying flat. Women who keep their hair longer usually style their hair as they normally would depend on whether they want to show it off or be more discreet, especially if they're deciding to grow it out again.
For women growing out, this hairstyle can be a pain, which is why many people fear taking the plunge and shearing off their locks but remember it's only hair and it's not gone forever. However, there are a few growing pains, but they're usually easily concealed. Many women use clip-in hair extensions, and when it grows out enough, the longer hair can be cut and styled into a bob. Otherwise, you can always wear your hair down to cover it up or wear a hat. You can also wear bobby pins or hair clips, or use gel to tame it.
Most of the time, the hair growth won't look too awkward, it just needs styling. So, don't worry if you change your mind about it afterward. Many people who are growing out this hairstyle dye their hair so that it is less noticeable in comparison. Provided you need to not look super professional at work, bright, fun colors like blue or pink may obscure the eye when seeing the asymmetric hair.
​The History: Traditions in Style
An age-old adage used to describe the right cut to barbers, "short on the sides, longer on top."
We now have a name for the style: undercut, but it's not just short on the sides. The disconnected undercut means that the sides are shaved to either a one or a zero; there's no blend or fade, leaving just a tuft of easily styled hair at the top of your head.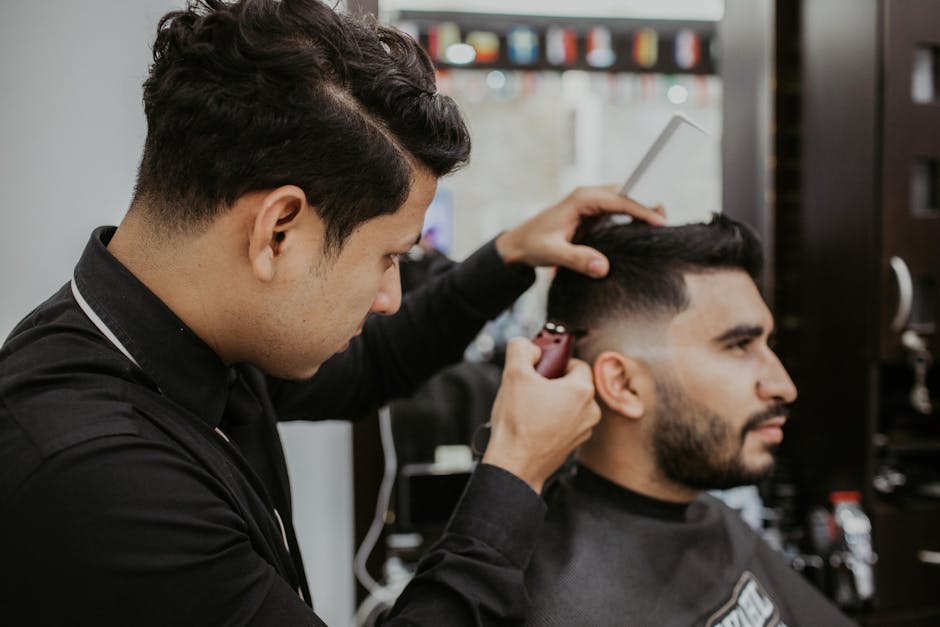 ​men-trendy-haircuts-in-2016​​​​Many stylists today are doing more of these hairstyles than ever, but they want their clients to be aware of maintenance. This hairstyle is meant to look sleek and clean-cut, so it needs to be touched up every 4-6 weeks by a stylist or at home.
While some consider them to be unconventional and bold, it can have a nostalgic appeal such as the classic 1940s era G.I. side-part style Brad Pitt sported in the movie "Fury." It will always have a timeless look to it.
​Modern Style: The Return of The Undercut
​This style has been popularized by celebrities like singer-songwriters Miley Cyrus and Justin Timberlake, Ruby Rose, from Netflix's hit show "Orange is the New Black," and even trendsetter Scarlett Johansson. It's everywhere now. There are even variations where lines or patterns are cut into it. Some people, like Natalie Dormer from "Game of Thrones," have only one side shaved making it a noticeable, but subtle difference. When you're visiting the salon, bring pictures of how you want your hair to look. There are plenty of celebrities sporting this eye-catching, iconic style, so find the cut and look you like, so the hairdresser knows exactly how you like it. They'll be able to give you styling tips too.
If you want to try cutting your own hair, you can watch this tutorial. All you need is hair clippers. The most important thing to remember is that it's cut evenly. If not, you've shaved off hair with no style. It defeats the sleek nature of the look. The other important thing is products, regardless of how long the remaining hair is because that's how you make the look your own.
Think about whether you're interested in a one-sided shave or a traditional undercut from the nape of your neck with or without both sides included. Also decide if you want to go full shave at a 0 or 1, or something subtler like 4-6mm cut. Maybe take baby steps if you aren't sure about going all the way. You can always start with a simple asymmetric cut. Discuss it with your stylist to see what works best with your face shape and see what they can do for you based on what you like.
​Best Products
With this cut, style is important, and there's a lot of different hair styling products in the world from hairsprays to mousses to creams, but today we'll talk about three products that are the best for this hairstyle whether worn by a man or woman. That being said, you can usually use what you normally would for your hair.
Probably the best product to use will be a Pomade because rather than stiffening the hair, it softens it while providing hold. If using a pomade to slick-back or style your hair, it's best to use a water-based pomade, which is ideal for a strong but flexible hold you can restyle throughout the day. You can use an oil or wax-based pomade, but these will be tougher to wash out and not as healthy for your hair, but it works if you want a greasier look.
With a pomade, you can do a comb-over, side part, slicked back, quiff, or pompadour style. Whichever you like best for you, or if you want something professional or fun or glamorous. It's your choice. And pomades are not just for men, women can use them too, and some are even being tailored for women to add texture and definition to their waves and curls.
When styling with pomade, you want to towel dry your hair, so it's still damp, but not uncontrollable. Scoop some pomade into your hands and rub it between them until they're evenly coated. Then gently run it through your hair on both sides, smoothing it into your hair as you gently style it.
​Pomades for Men
Sauvecito
Uppercut Delux
Old Spice
Imperial Barber
​Pomades for Women
Lonestar Pomade Super Hold for frizzy hair
Bumble and Bumble Semisumo for curly hair
Bumble and Bumble Sumotech for wavy hair
Sauvecita Pomade for Women
Any waxes or oils will have a stronger hold, but it's best to use a water-based wax such as American Crew's Foaming Cream. These types of hair products are ideal for a longer length hair. It's also a very effective way to control and style wavy or frizzy hair. If your hair is naturally oily, however, it will absorb the excess grease, meaning it may dry out after a few hours. This is another reason to use the pomade, but the wax works well for spiky hair, faux hawks, and mohawks.
Wax doesn't work as well on damp or wet hair, so once your hair is dry take some in your hands, rubbing it between them, and then apply the wax starting in back to avoid clumping as you spread it evenly through your hair.
​Waxes
Gatsby Moving Rubber
TIGI Bed Head Workable Wax
Redken Maneuver Working Wax
A gel will give you that long-lasting crunchy hardness to your hair. It offers a wet look that is high shine with a very strong hold. Once the hair is styled, it cannot be restyled.
Towel dry your hair, so it's still damp and then apply slowly as needed to avoid flaking.
​Gels
American Crew Styling Gel
Redken Stand Tough
L'Oreal Paris Studio Line
Style Sexy Hair Gel
​Conclusion
There's no doubt that the undercut is a style for the ages, but who knows what will come next as fashion and style are always changing almost in a blink. If your someone who keeps up with style trends, then this cut is what you're looking for. This versatile style leaves many doors open from someone who is professional and clean-cut to a punk rocker who lets the longer hair go a little wilder.
A hairstyle is a personal statement and how you style it expresses your truest self. Always remember to keep it real and don't ever be afraid to let your true hew shine through.